Guest Testimonials
&nbsp Alexandra M. 09/02/2015
Fantastic service...
Fantastic service. You can use this company with confidence. Top notch professionalism. Easy to schedule with Chris for driving service. Would give them 10 stars if that was an option. Reliable, safe, nice town car to ride in. Reasonable rates. Chris has the perfect personality for what he does. Nice person, great service! Will be using GoldStar again in the future.
Manuel M. 07/14/2015
Chris is an absolutely amazing driver...
Chris is an absolutely amazing driver. He arrived exactly when we asked him to arrive, he had bottled water for us to stay hydrated in the heat, he was more than knowledgeable about where we were going and what other things in the area we might be interested in, and he was professional and kind the entire time we had the pleasure of dealing with him. I would recommend GoldStar to any of my family or friends in a heartbeat. We will be using their services again in the future, guaranteed.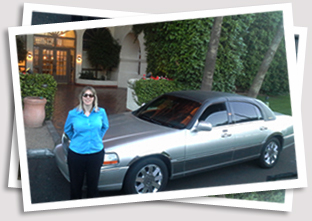 Ryan S. 10/27/2014
What a Trip!
Chris made our wine tasting tour not only enjoyable but a memorable experience! Goldstar Town Car Services is more than just a luxury pick up and drop off service. Chris and his team are exceptional and would recommend Goldstar to all travelling in the Tuscon Arizona area. Why join a tour when you can have exceptional service and pricing with Chris and his team!
Colin M. 10/26/2014
Chris was an absolutely outstanding driver!
Chris was an absolutely outstanding driver! He was dependable and kept me updated on when he would pick me up and drop me off. I would absolutely recommend him to anyone looking for a transportation service.
medicsam79 04/17/2014
Excellent Service...
Chris and his partner were outstanding. Reliable. Early and communicated everything to make This trip stress free. I would highly recommend using this service when in Tucson.
Tyler A. 03/06/2014
Great service all around...
Great service all around. Chris offered water on both occasions. He had the front seats moved all the way to the front for extra leg room and helped with my luggage. I would recommend this service and I will use it again. Thanks so much Goldstar!
Patrick D. 12/26/2013
I couldnt ask for a better expereince...
I have used this service multiple times. I couldnt ask for a better expereince. Such friendly and professional drivers. If you need to go anywhere, I PROMISE you will not regret using this service. Thanks Goldstar!
RyanTuscon 10/03/2013
His customer service is the best...
We have used countless car service companies over the last 10 years for airport transportation etc.. I book them for my boss all the time. Not once have I ever booked a reservation and not had that thought in the back of my mind that somehow things weren't going to go smoothly. Until we met Chris at Gold Star. His customer service is the best I've experienced in any industry. This is a top notch company and their rates are very reasonable. I look forward to working with Gold Star Transportation for years to come.
Bryan_PB 08/19/2013
I am a heavy corporate user of car…
I am a heavy corporate user of car services and GoldStar is in the best class. Nice equipment, professional, courteous, competitive and prompt. Drivers have good local knowledge and adapt to each custmer's desired environment (music, conversation, privacy, etc.) I'll use them for every Tucson visit.
laurie.w.dauria 06/03/2013
I needed to get my daughter and son-in…
I needed to get my daughter and son-in-law from their wedding venue to their hotel which was a half mile away. I called GoldStar (on a holiday) and explained what I wanted and that I only needed them for an hour. Chris the owner was so friendly and nice and understood exactly what I wanted. He picked them up at the venue after the reception and drove them around Tucson for an hour so that they could unwind and just be with each other. Chris had arranged a special route, had music playing, and wine glasses ready and everything was very soothing and wonderful. The cost was so affordable and I could not believe that a car service like this existed. This was absolutely perfect. If there were more than five stars they would get them for sure. I will use them whenever I need this service again. Thank you Christopher!!!!
karrie.j.butler 05/16/2013
This is the way to go if you are tired…
This is the way to go if you are tired of the "Tour of Tucson" you get with the shuttle bus service! Christopher picked us up in a very comfortable Town Car when WE wanted to be picked up and drove us directly to the airport, and when our flight was delayed 9 hours coming back, he was still there to meet us with a smile, to drive these weary travelers home! This is the ONLY way to go! It is such a nice feeling to know I have access to friendly, private transportation no matter where I may need to go! Thank you Christopher!
ColininTucson 03/31/2013
I hired Goldstar to transport guests to…
I hired Goldstar to transport guests to and from my wedding in Tucson. They did a really wonderful job, the drivers were all very professional, both for 15-passenger vans and towncars. I really have to commend the owner Christopher on taking care of us, I definitely had peace of mind with regard to our transportation, which was great since we had so many other things to think about! I would highly recommend using Goldstar for future wedding transport service!
acolsen 03/09/2013
The owner, Christopher, is very…
The owner, Christopher, is very accommodating. This is the second time I have used their service, and I will continue to call them for my transportation needs. My first experience with them was fabulous. The lady who drove was very sweet, and the car was immaculate! I had called around to some taxi services before I called GoldStar, and was shocked to find that they were so competitively priced. Definitely worth the extra couple of dollars!!!
jenika08 02/17/2013
Last night we had a surprise 25th…
Last night we had a surprise 25th wedding anniversary party for my parents. I sent them to dinner before and Goldstar picked them up at EXACTLY the time promised, waited for them to eat and then drove them to their final destination all the while communicating with me so that I knew where they were and their ETA. I can't say enough good things about this company as it was very elegant, sophisticated and professionally arranged. Thanks again for your help! I will definitely be calling you again.
JCTucson 01/28/2013
I recently had family visiting town and was unable to pick them up from the airport. After researching cab fare, I was surprised to see that for virtually the same price GoldStar Town Car would transport my family in style. With that said, I can't say enough good things about Chris and GoldStar. His entire operation is first class. He was on time and extremely courteous. All of that for a price that competes with cab fare. I will definitely use GoldStar again and recommend them to all my friends and coworkers.
McCrayFamily 01/03/2013
EASY RESERVATION AND EXCEPTIONAL SERVICE…
When we first contacted Goldstar about Tucson transportation, we received a quick response and made our reservation with ease. The four of us (2 adults & 2 children) arrived the day after Christmas for a week's stay at the Ritz Carlton Dove Mountain Resort. Although our flight was delayed, Christopher Kerr was waiting for us with a smile on his face. The 50 minute ride to the resort was pleasant and informative as Chris knew all the local facts. He picked us up at the end of our stay for the return trip to the airport at the appointed time with no delay. I highly recommend Goldstar for your transportation needs in and around Tucson. I will definitely use them in the future.
KathleenSantaFe 01/02/2013
I was in Tucson recently for business…
I was in Tucson recently for business meetings and I needed a professional car service to get me to various locations throughout Tucson. I am incredibly particular and I can say that the service, reliability and price far exceeded my expectations! I very much appreciate a well run company and GoldStar is the best car service I have used. The driver arrived on time, had superior knowledge of Tucson and conveyed a professional appearance and attitude. Thanks for making my stay in Tucson a great one!
ethel.m.burns.3 12/21/2012
Affordable prices, professional…
Affordable prices, professional, courteous, on time, clean safe vehicle…
Oh my goodness, I now know how Cinderella felt when she was on her way to the ball!!
I was very fortunate to find GOLD STAR CAR SERVICE by doing a Google Search because; I needed a ride to a concert last evening..
I was VERY, VERY happy with the service that I received from GOLD STAR CAR SERVICE.
Christopher was my driver and from the time that he arrived at the agreed upon time, until I was returned to my residence, I was comfortable, safe and happy with my experience with GOLD STAR CAR SERVICE.
In our lives, there are many things that we have to use our brains for however, if one is looking for a Car Service, it is definitely a NO BRAINER to use GOLD STAR CAR SERVICE.
When the need arises again that I will need to hire a car service, I will not hesitate at all to call Christopher at GOLD STAR CAR SERVICE.
Thank you again Christopher for making my evening very special.
donerintucson 12/08/2012
Great service!
Great service! On time, courteous, and their cars are always immaculate. I highly recommend GoldStar.
NewYorker18 11/28/2012
Consummate professionals.
Consummate professionals. A++++++ RATING.
My driver went beyond and above to ensure that I was well taken care of. (We arrived at my destination and my host had given me the wrong info. He not only contacted the host for me on his own personal cell phone but refused to leave me at my destination until he knew I was safe. ) The driver in training was similarly professional and courteous. The car was immaculate and well maintained. EXCELLENT.
AZDirtLady 11/28/2012
Perfect wedding transportation service!
Perfect wedding transportation service!!!
My son was married on the 17th of November 2012 in Oro Valley, AZ. Goldstar worked with me coordinating cars, times and passengers which we had several changes at the last minute. Pleasant, resourceful, and accommodating the team was very flexible and they were always waiting for us. The Goldstar team transported the groom, groom's men first, then the Bride and her mother, Bridesmaids in the next car. My daughter's friend and I in the next car. Mother, Father, sisters and several guests in several cars at different times and several hotels.
The team waited for us at the wedding and reception venue to accommodate those who chose to leave early. The Goldstar team then accommodated the Bride and Groom, family and guests to 5 hotels.
In addition, with the last minute rush after the event, the team helped and transported gifts and several other items from the venue.
Thank you Goldstar for your excellent service and attention to detail! You made my son's wedding a joy and gave me the peace of mind the wedding party, family and guests would arrive on time and everyone would have Towncar service back to their hotels.
Shelley (Mother of the Groom)
AndrewKP 11/07/2012
On-time.
On-time. Friendly. Accommodating even on short notice. Excellent pricing.
SeptimaDesu 11/06/2012
Our driver went so far out of his way…
Our driver went so far out of his way for us. We needed to be picked up in Mesa at 1AM, and he was there before we were with a smile to greet us (at a discount!). He was incredibly kind, as well as being a very interesting and intelligent conversation partner. The driving was excellent, the car was high-quality and clean, and the customer service absolutely blew my mind. I actually enjoyed this service so much that I'm trying to think of reasons to solicit it again in the near future. I highly recommend this company!
EileenAZ 10/29/2012
Always courteous, punctual and the…
Always courteous, punctual and the vehicles are spotless. Chris is always aware of traffic patterns for you to arrive safely and on time. His knowledge of the local area and what is happening is most useful. Exceptional service. Thanks Chris.
HotInTucson 10/27/2012
I've traveled from no less then 10 major…
I've traveled from no less then 10 major cities in the US. I've used a car service to get to the airport in each and every city. I can assure you that GoldStar is the best. I spent a year traveling almost every week for work. I had a service bring and pick me up from the airport in Atlanta almost 100% of the time. He wasn't as good as GoldStar. Prompt, kind, fast and most importantly for a car service, reliable. Don't bother looking around. GoldStar is the answer.
tdblif 10/24/2012
i've been using goldstar for several…
i've been using goldstar for several months now. i have a 2nd home here in tucson and come into town every 6 weeks or so from chicago. i wanted an above average level of service, a quiet and comfortable private car service at a reasonable price, goldstar has been meeting and exceeding my expectations.
tdb
Kristin 09/25/2012
GoldStar Town Car Services is an…
GoldStar Town Car Services is an outstanding service provider and I recommend them highly! We arranged for transport to and from a charity event so we could enjoy the evening without having to worry about driving after having cocktails. We were picked up exactly on time, the car was impeccable and the drivers (both ways)were professional and accomodating. Outstanding pricing for the level of service received, we will be very loyal customers! Special thanks to Chris the owner!
joel.clark.5473 09/11/2012
I had a wonderful experience with Gold…
I had a wonderful experience with Gold Star. The driver was courtious, professional and punctual. I would highly recommend the company for anyone in the Tuscon area.
Tuckernm 07/15/2012
I travel to Tucson, often, Goldstar…
I travel to Tucson, often, Goldstar gives me awesome service!
Their airport service is a true pleasure!
The drivers are super friendly and totally reliable.
desertdweller11 07/10/2012
Thanks for GREAT service!
Thanks for GREAT service! Tucson is lucky to have you! Great rates, and really nice people to do business with! p.s. 'We loved the Town Car!
laurast 05/11/2012
The service with Goldstar was fantastic!
The service with Goldstar was fantastic! Our driver was very friendly and the car was very clean. Thank you!